Driven by its rapid expansion of portfolio product categories to UK, Megas Yeeros organized with great success the 1st UK Yeeros Workshop in strategic partnership with Ambrosia Quality Food. Event took place in London, Monday January 30th at Wallacespace Spitafields space. At the workshop, presented the meat handling and preparation but also discussed the new products and new trends, that can drive grill store's growth.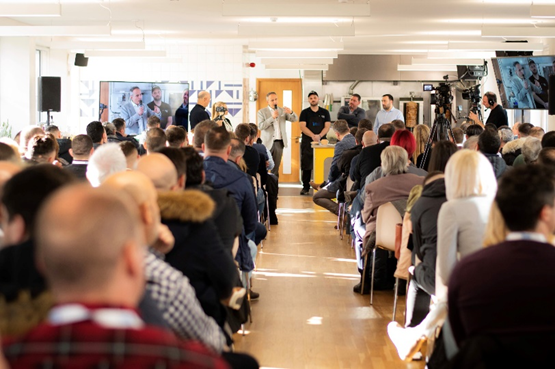 The Grill stores growth in London was the reference point of the workshop. A wide variety of meat products, prepared by the Training & Development department and presented at the workshop. More than 180 guest, attended the speeches of the company's executives and tasted chicken yeeros, mega kebabs eastern style, premium mega souvlaki chicken, lamb souvlaki, mega meatless yeero and mega meatless nuggets.
Moreover, all guests had the chance to see for the first time the new trend of Mega Bowls, an innovative food suggestion for those who looking for quick preparation, convenient packaging and profitability!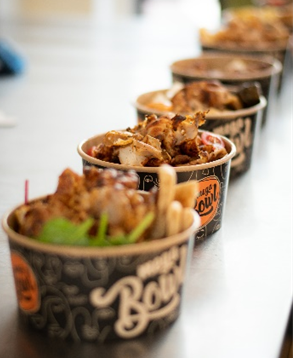 Mr. Chris Kotsonis –CEO Ambrosia Quality Food Ltd– welcomed the attendees and as characteristic mentioned
"Ambrosia has grown significantly, and we are opening a new warehouse in Derby that will enable, not only to bring in new products at competitive prices, but also to deliver faster and just in time to you."
According to Mr. Nikolaos Loustas, CEO Megas Yeeros, offering innovative products that meet consumer needs, is the key pillar for growth in UK Restaurant Business.
The presence of Mr. Nikos Stergiou, Managing Director of Megas Yeeros and Chris Farantzos, Head of Training & Development was of great importance since they present meat handling & preparation issues, new products and new trends.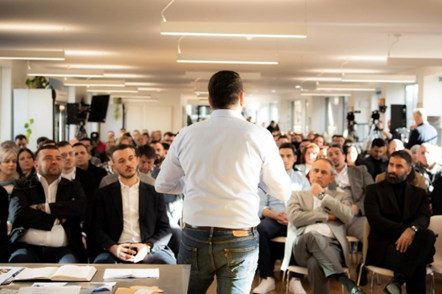 With the moto "Growing Together" Megas Yeeros & Ambrosia Quality Foods inspired attendees, to be prepared for the next generation of stores in UK restaurant business.
Today, Megas Yeeros with two factories in Europe and America, with dozens of partners in the distribution networks, and the most specialized and experienced executives, it is the largest producer of authentic gyros and meat preparations in the world.Megas Yeeros never stop searching, evolving and testing new proposals that meet global food trends. Join Megas Yeeros for an exciting taste experience!
Ambrosia Quality Food, the biggest distributor of Greek food in Great Britain, delivers to restaurants, shops, stalls, delis and supermarkets fresh and frozen Traditional Greek Food over the past 10 years.
It has more than 2.000 products and continues to add new codes so as to respond to all of its clients' needs and be up to date with food and nutrition trends on a local and on an international level.